WRITTEN BY CHEF DERON LITTLE | FOOD PHOTOGRAPHY BY ABBY SWABE
Fall has always been my favorite season. This is the time when everything bursts with its last beauty, as if nature had been saving up all year for the grand finale.  When fall arrives, it's the time for bountiful harvests of the foods that have grown through summer. Grocery stores and farmers' markets are full of apples, figs, pears, pumpkins, sweet potatoes, and winter squash. The fall salmon run is the time when salmon, which have migrated from the ocean, swim to the upper reaches of rivers where they spawn on gravel beds.  Salmon spend their early life in rivers, and then swim out to sea where they live their adult lives and gain most of their body mass. When they have matured, they return to the rivers to spawn.  Fishing the fall salmon run is an amazing experience and the harvest is some of the best salmon all year.
To celebrate the fall salmon run, we are featuring a special dish for you to try at home and at Seasons Innovative Bar & Grille:
Wild Salmon with a Brandy Morel Mushroom Sauce
Ingredients:
7 oz wild salmon (cleaned and pin bone out)
2 oz extra virgin olive oil
1 tbs fine diced shallot
2 ea sliced morel mushrooms
1 oz brandy
1/2 cup demi gloss
1/4 heavy cream
salt & pepper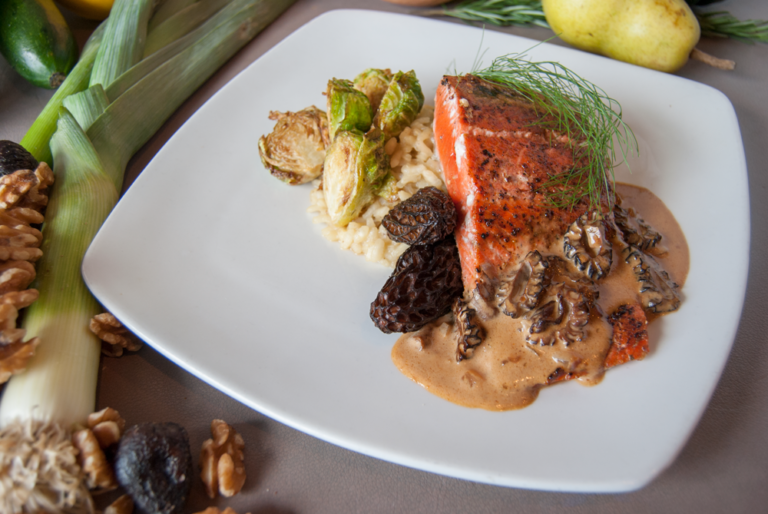 Preparation:
In a heavy sauté  pan over medium heat, add 1 oz of the olive oil, allow to get hot. Season the salmon lightly with salt and pepper. Place the salmon in the hot olive oil for 3 minutes, allow to sear. Turn salmon over and place in a pre-heated 350 degree oven for 8 minutes. This should give you a nice medium salmon. In a separate sauté pan, while the salmon is cooking in the oven, we will make the sauce. Over medium heat add 1 oz of olive oil, add the shallots and allow to sweat until they are translucent, add the morel mushrooms and continue to sauté for 1 minute, deglaze with the brandy, add the demi gloss and the heavy cream, stir continually and allow to reduce to a good sauce consistency. Take the sauce off the heat and adjust the flavor with salt & pepper. Place the salmon on either rice, orzo or risotto and pour the sauce over the salmon. Enjoy!
"It is only the farmer who faithfully plants seeds in the Spring, who reaps a harvest in the Autumn." 
– B. C. Forbes