WRITTEN BY DERON LITTLE | PHOTOGRAPHY BY BEN GIBSON
Our good friend Winter is quickly approaching, bringing along with him his trusty pals: Bitterly Cold Temperatures, Cutting Winds, and Frigid Snowy Days. We know this group of friends all too well. For many of you, winter weather makes you want to remain indoors until spring comes.  Fortunately, we live in a world with food. Food is our friend — always has been, always will be. So when you've been out in the frosty air all day long and the chilling winter temperatures cut to your core, there's nothing better than a warm bowl of chili. Next to jazz music, there is nothing that lifts the spirit and strengthens the soul more than a good bowl of chili.
Seasons Award Winning Chili
Ingredients:
2 tsp   olive oil
2 med   onions (chopped)
3    garlic cloves, minced
2 lbs   beef sirloin (cubed 3/4in-1in)
14.5 oz   can of diced tomatoes
1 can   dark beer (12 ounces)
1 cup   dark coffee
2 cans   tomato paste (6 oz each)
1 1/2 cup   beef broth
1/2 cup    brown sugar
3 1/2 tbs   chili sauce
1 tbs   cumin powder
1 tbs   cocoa powder
1 tsp   oregano
1 tsp   cayenne pepper
1 tsp   coriander
1 tsp   salt
4 cans   kidney beans (15 oz each)
7 oz   chipotle peppers in adobo sauce (chopped)
1/2 cup   fresh cilantro (chopped)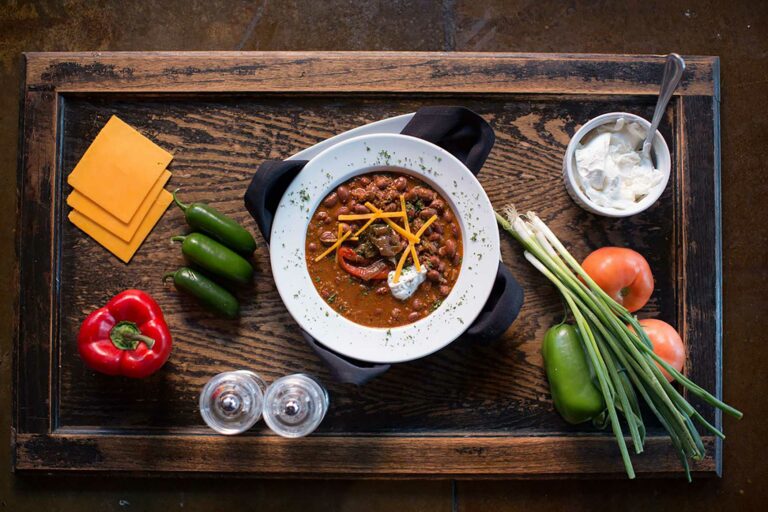 Direction
1. Start by heating up the oil. Cook onions, garlic and meat until brown on medium high heat.
2. Add tomatoes, beer, coffee, tomato paste, chili sauce, brown sugar and beef broth.
3. Add spices, 2 cans of kidney beans and chipotle peppers.
4. Reduce heat to medium low (closer to low) and simmer for 1 1/2 hours. **Test the meat after 1 hour. If it is falling apart, reduce the heat and continue cooking.**
5. Add 2 remaining cans of kidney beans and simmer for another 30 minutes.
6. Add the fresh cilantro just before serving. Mix well.
7. Serve with sour cream and fresh baguette!
Enjoy this winter with family and friends, creating memories around a dinner table.
Chef Deron Little CEC
Seasons Innovative Bar and Grille
"I love the scents of winter! For me, it's all about the feeling you get when you smell pumpkin spice, cinnamon, nutmeg, gingerbread and spruce."
–Taylor Swift