Studio 135 has had incredible success since its doors opened in 2014. Owners Jessica and Kevin Moore plan to add two more stylists in the coming months since they are continuing to grow so fast. One of the newest members of the Studio 135 team is Knoxville native Brittany Mullins. She graduated from the TN School of Beauty and has over 10 years of experience being a hair artist.
People often come into the salon with a picture of a celebrity whose hair style they wish to have. When asked which hairstyle clients ask for the most, Brittany says Julianne Hough. Hough, an actress who has been in several movies and television shows such as Dancing With the Stars, has a blonde bob, a hairstyle that is very popular. Many clients also bring in pictures from Pinterest to show their dream look.
Brittany says her favorite part of being a stylist and working at Studio 135 is connecting with her clients. "I love the relationship with my clients and making them feel beautiful." Sometimes going to a new hair stylist can be nerve wracking, but Brittany's friendly personality will put all your concerns at ease. Brittany is trained in all aspects of hair styling including color, cut, and waxing. She also knows all of the latest hair trends including bobs, lobs, ombre, and pastel colors.
Brittany has three children, eleven-year-old-twins and an eight-year-old. They all love playing basketball. Brittany also enjoys decorating her house and describes herself as having a very Boho style. When asked how she feels about working at Studio 135 Brittany replied, "I feel truly blessed to be here. We have so much fun, and it has the coolest, most laid-back atmosphere. We are like a family."
Studio 135 uses only Kevin Murphy products which are cruelty free and free of sulfates, parabens, and ammonia. They are high-quality products that are environmentally friendly by using only "organic growing practices, or ecologically sound wild harvesting techniques to ensure the very highest natural quality."
Kevin is still collecting unique, vintage pieces to decorate the unique gift shop.Pieces such as oversized artisan lamps and a floor-to-ceiling metal horse make for a show stopping first impression as you walk through the doors. The studio interior is very elegant and welcoming due to Kevin's extraordinary interior design skills. It seamlessly blends rustic charm and modern elegance with pieces like a wood and iron
coffee table and sleek white chairs with metallic pillows.
Studio 135 has many great features for a truly wonderful experience. Everything from color and cuts to waxing to hair extensions, this salon can do it all! So if you are looking for a truly exceptional hair salon experience, look no further than Studio 135.
Studio 135 is located at 135 West End Avenue in Knoxville. Book an appointment today by calling 865-671-2342 and relay that you saw this article in Farragut Life magazine. Visit their webite at www.studio135knoxville.com.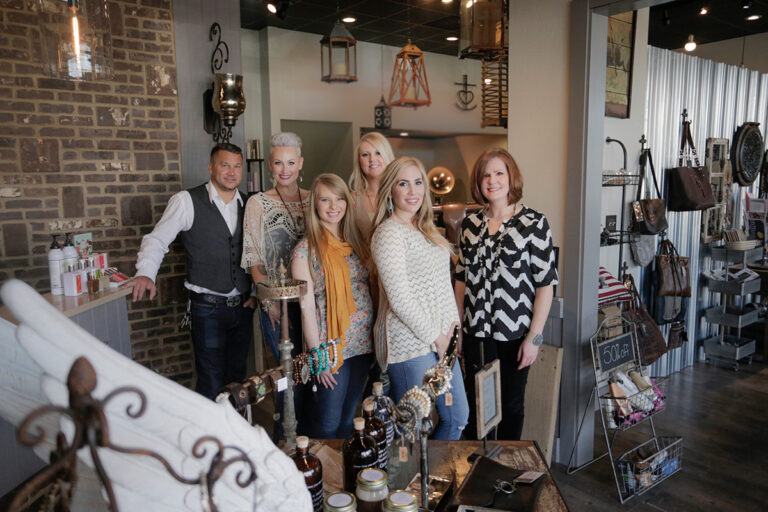 From left to right are owners Kevin and Jessica, Taylor, Holly, Brittany and Pam.