WRITTEN BY DERON LITTLE | PHOTOGRAPHY BY BEN GIBSON
The days of bright berries, crisp salads and succulent summer fruit are behind us for another year. While you might be disappointed to see the last of the seasonal salads, don't fret – there are delicious replacements on the way with fall fruits and vegetables.
Autumn is a season of fruits and vegetables that have rich flavor and are wonderful for your health.
Here are some delicious items. Make them a regular part of your dining experience.
1. Parsnips. These might look like white carrots but they have a delicate, sweet flavor. Look for smooth and firm, small to medium sized parsnips for the best quality.
2. Sweet potatoes. Despite its name, the sweet potato is not related to the potato. Good-quality sweet potatoes will be firm, smooth-skinned and tan to light rose color. They are ideal for baking, grilling or steaming, and you can substitute them in any recipe that calls for potatoes.
3. Pumpkins. These are more than just Halloween decorations. The pumpkin's bright orange color and sweet flavor lends itself to a variety of uses. It's great served as a tasty side dish for a main meal and ideal for making hearty winter soups, as well as being baked into bread and pumpkin pie.
4. Clementines. These are the baby cousins of the Florida orange and are also known as mandarin oranges. They can be quite difficult to distinguish from tangerines, as they are both bitter orange hybrids, but the main difference is that clementines are often seedless. They go well with chicken dishes and seafood
5. Apples. Apples are great for more than baking. Try them in fruit chutney over a grilled salmon.
6. Pears. Pears are almost as versatile as the apple. You can use them in low-fat pancakes, sliced on sandwiches or poached and drizzled with maple syrup for a warm, sweet dessert.
7. Cranberries. If you are looking for berries that ripen in the autumn, look no further than cranberries. Only about 10% of the commercial crop is sold fresh – mostly in September through to December. The rest can be found as juice, dried or as cranberry sauce. Fresh cranberries can be too tart on their own, but they pair wonderfully with other fruits such as apples and pears. Cranberries work well added to muffins and other baked goods and in compotes, relishes, chutneys and fruit desserts.
8. Figs. These often-overlooked fruits are full of flavor and their chewy texture makes them a tasty, nutritious addition to sweeten up mashed potatoes or sweet potatoes.
Roasted Turkey with Port Wine and Pear
The fruitiness of the pear nectar, combined with the unique nuances of port wine, provide a delightful accompaniment to the holiday flavors
of this honey and sage roasted turkey.
Turkey Glaze
Ingredients:
4 cups pear nectar
2 cups of a tawny-style Port wine
1/2 cup of butter
1/4 cup honey
1  1/2 tsp fresh sage, minced (or you can substitute 1/2 tsp of dried rubbed sage)
Combine all the above ingredients in a large saucepan and bring to a boil. The mixture should reduce to about 2 cups (this should take 40 or so minutes) once reduced, remove from heat. You will keep 1 cup of the mixture for the sauce (gravy).
1 20 lb Turkey
1 tbs minced garlic
1/4 cup olive oil
1 tsp sage
1 tbs sea salt
1 tbs cracked black pepper
3 Celery stalks
1 onion (quartered)
2 carrots (peeled and halved)
3 cups Chicken Stock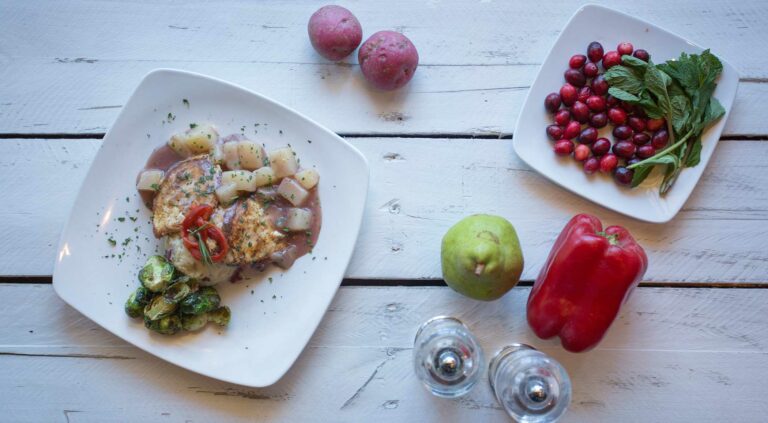 Procedure: 
Preheat oven to 450 degrees. Mix oil and above dry ingredients together in a small bowl. Take the paste-like mixture and rub the outside and inside cavity of turkey. Put celery, onion, and carrots inside cavity. Pour 1 cup of chicken stock in bottom of roasting pan. Place turkey in roasting pan and cover with foil. Place in oven for 45 minutes. After 45 minutes, remove turkey and brush with glaze. Reduce oven temperature to 350 and continue roasting for 2 additional hours – basting every 30 minutes with pan juices – keeping turkey covered. After two hours, uncover the turkey and baste once more.
Continue cooking until turkey is golden (should be about 15 additional minutes). Remove the turkey from the pan and place, under a tent of aluminum foil, on a large platter.
Sauce (Gravy)
Ladle the remaining pan juices into a large saucepan. Put over medium heat and add the remaining 2 cups of chicken stock.  Bring to a boil and thicken with cornstarch ( 2 tsp dissolved into about 2 tablespoons of water).  Whisk in cornstarch mixture, allow to boil until thickening begins, and reduce heat.  Add remaining glaze mixture – continue to stir – sauce should thicken slowly as it simmers.
Garnish turkey platter with fresh herbs, berries, or nuts.  Serve both sauce and turkey separately. As a nice accent, prepare your favorite stuffing or dressing recipe and enhance by adding currants, nuts, or golden raisins.