One mark of good artists is the ability to make you care about something in which you had no prior interest, drawing you in with their passion for their work. This was how I felt as Cheryl Willhoit showed me her hand-painted furniture on display in her store Sweet & Sassy in Madisonville. I knew nothing about furniture, and during our interview, Cheryl had to clarify the names of different types of furniture—vanities, buffet servers, bombe chests, all practically a foreign language to me—to make sure I got the terminology correct in the article. But an artist like Cheryl doesn't rely on prior knowledge of or interest in her subject; rather, she creates that interest, delighting to share her fervent passion, smiling broadly.
For her business, she searches out old pieces of furniture—something you would walk past in a store without a second glance—then restores and paints them, transforming them into something eye-catching and beautiful.
"This is my happy place," Cheryl said. "To me, sitting down with that piece right there, figuring out what color it wants to be… Furniture kind of tells me how it wants to look. It's like an outfit with jewelry."
She continued, saying, "When you first start painting something, it's just paint; it's ugly. But once you start adding all the little details and the embellishments and gold foil or silver foil… You just hear that piece singing; it's happy again."
To create a beautiful piece, Cheryl first has to find the right canvas—that is, the right piece of furniture to paint. Her search begins in thrift stores or on websites like Craigslist or Facebook Marketplace where perhaps one in a hundred catch her eye. Usually, she and her husband have to pick it up themselves. Sometimes that means renting a U-Haul, and sometimes that means driving as far as Montgomery, Alabama and back with half a desk sticking out from the bed of their truck.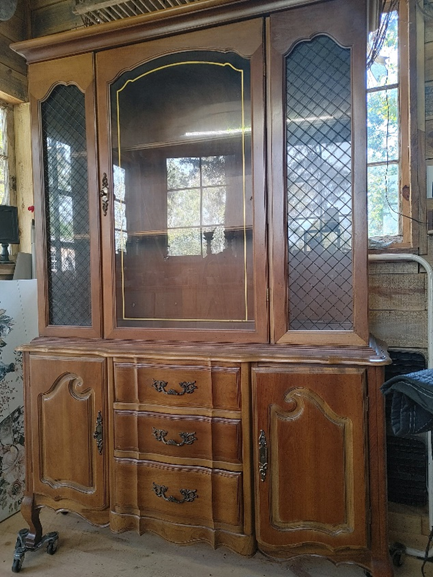 Cheryl had been painting furniture before opening Sweet & Sassy. She would sell it to an antique store, but when the pandemic hit, that store closed. This was a problem as she had a huge investment in paint—and wasn't particularly excited to tell her husband how huge an investment—so on March 1st of 2021, she convinced him to open a store selling her furniture. Despite opening in the middle of the pandemic, Sweet & Sassy was a huge success, and within five months, they had to expand to a larger store.
Cheryl encourages people to buy restored furniture pieces instead of new ones. Not only is this often cheaper, but old furniture is usually made from real wood whereas new pieces are often pressboard. Occasionally, however, older pieces require some modifications for safety. For example, Cheryl showed me a cedar chest she was working on that was originally airtight and locked automatically when closed. This means that a child could get trapped inside and be unable to escape. To prevent this, Cheryl always pops the lock out of pieces like this.
"Cedar chests, if you ever pick one up at a yard sale, pop the lock out, especially if it's a Lane cedar chest," she recommended. "You can call Lane and they will send you a new lock."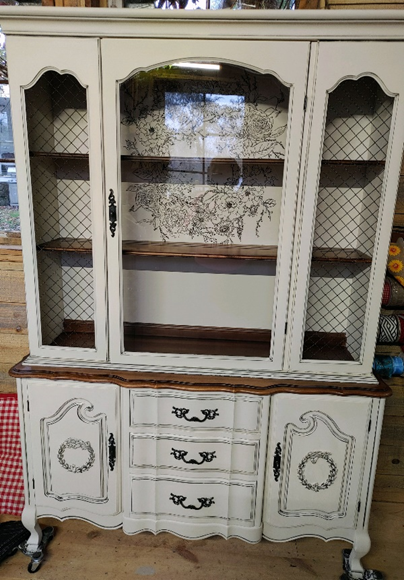 The dresser above was bought by a couple from Phoenix, Arizona. The man saw this piece and was immediately enraptured. His wife asked Cheryl if she'd take a lower price for it, but before Cheryl could answer, the man responded, "No she will not. That is art."
The couple bought it and rented a U-Haul to take it back to Phoenix. A few months later, the man called Cheryl and asked if she wanted to paint a China cabinet. She said sure and two or three weeks later, he brought her the most beautiful China cabinet she'd ever seen. Cheryl asked what color he wanted it, but he wouldn't give instructions—she'd done well on the other piece, and he wanted to leave the virtuoso to her work.
While visiting her shop, Cheryl showed me her storage space two doors down. Inside, two dozen furniture pieces lay partially disassembled in various stages of completion. The creative chaos reminded me of my own writing process where instead of starting one piece and working on it until it's finished, I usually start several and work on them simultaneously.
This storage space is where Cheryl keeps furniture that people have already bought but not been able to take yet, often because they're about to move into a new home. She also stores custom pieces customers have commissioned. But this isn't where she does her work—that honor is reserved for her "She Shed" back home. (This reminded me of the famous State Farm ad about a woman named Cheryl whose husband burns down her She Shed.)
"I have a very restless mind," Cheryl said, "so, I'm always thinking; I always have a piece of furniture to work on."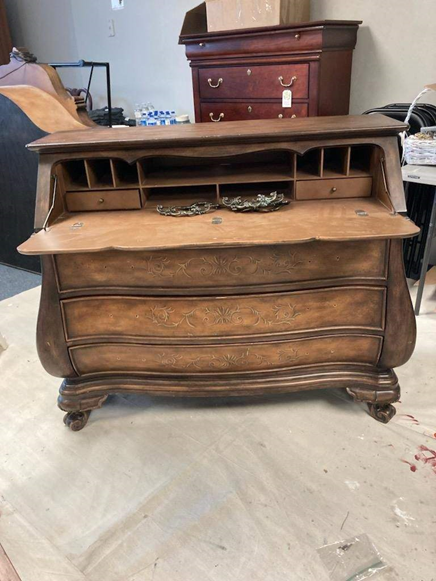 I asked Cheryl if she had something she considered her masterpiece, and she showed me these before and after photos of the light blue secretary display cabinet. Her husband had to drive all the way to Atlanta to get it. If you want to buy it, it's unfortunately too late. All her hand-painted pieces are one-of-a-kind, so once they've been bought, they're gone.
If you get the opportunity to visit Sweet & Sassy, there's one additional feature that stands out—a display in the back corner designed to look like the porch and front door of an old wooden cabin. Specifically, it's Cheryl's grandmother's cabin, where she and her siblings spent many hours as children when their parents were at work. The door even opens with a nostalgic squeak, and every time Cheryl hears it, she remembers her grandmother—sweet and tender but firm—calling out, "Don't slam that door!"