It drifted across the sky before landing in the practice football field with its distinguished guests—two recipients of the Medal of Honor, America's highest military award. On the football field, two carts waited for the former soldiers who were drove up a road lined on each side with JROTC members from seven different high schools, all standing at attention with their hands behind their backs as the Army Song played in the distance.
Next, students, faculty, and press gathered in the auditorium to hear from their visitors—Michael Fitzmaurice and Gary Littrell, two of only 65 living recipients of the Medal of Honor, over 30 of which were in town for Knoxville's 2022 Medal of Honor Celebration. Many other recipients were speaking at schools across the city that day.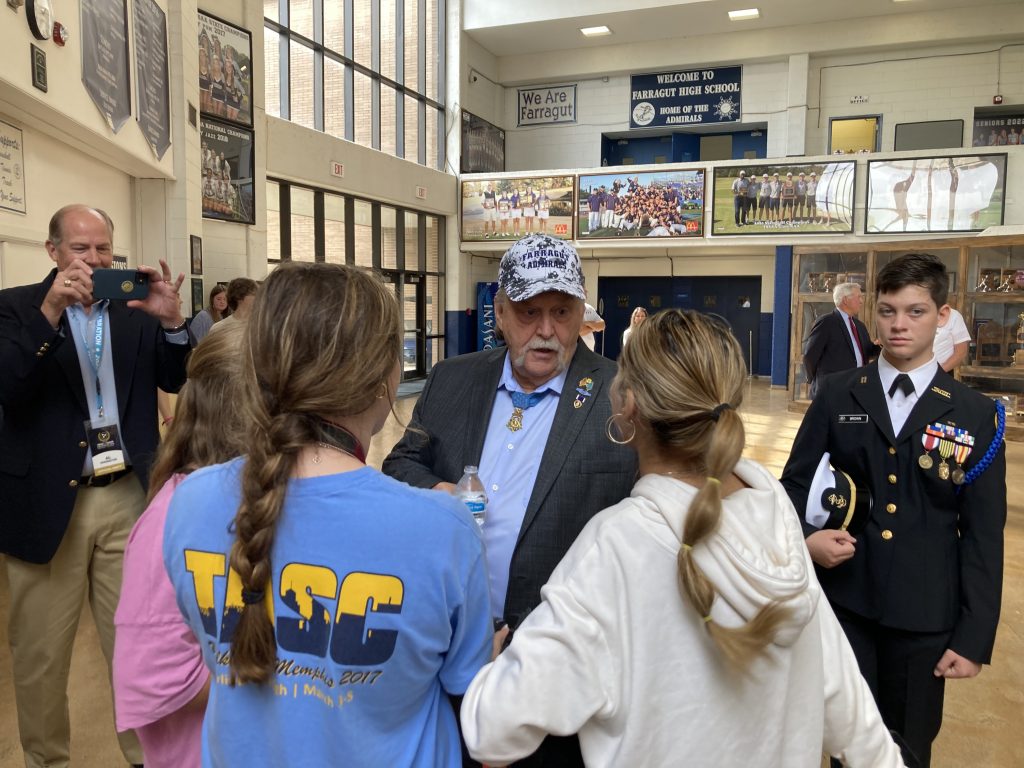 Littrell talked about the importance of courage, which he defined as "doing the right thing under adverse conditions." It is one of the six core values of the Medal of Honor, on which Littrell centered his speech, the others being, "commitment, sacrifice, integrity, citizenship, and patriotism." His and Fitzmaurice's stories are incredible, and you can read them online in their Medal of Honor citations.
When asked if he had anything to say to our readers, Michael Fitzmaurice replied, "I'm just enjoying my time here in Knoxville, and everyone's been great. It feels like being home again."
Watch the full ceremony here, recorded by the Knoxville News Sentinel.
This ceremony was only part of Knoxville's Medal of Honor Celebration which continues through September 10th, culminating in the Patriot Awards Gala at the Knoxville Convention Center. At this event, the recipients will present awards to others, including veteran Dr. Tim Miller who saved many lives during the Vietnam War. Knoxville previously hosted this annual celebration in 2014, and it is one of only two cities to have hosted the event multiple times.