Colbert County, Alabama—September 4, 1937
Key Underwood kneels in the meadow where he's made so many happy memories. With the three-foot grave in front of him, he slowly chisels the name of his coon dog into the headstone—TROOP. For the past 15 years, they hunted racoons together, and in this meadow, they spent many long hours with fellow coon hunters and their dogs. It was Troop's favorite place, so it makes a fitting burial spot. Finally, Key finishes the headstone. He doesn't know it, but he has just founded a graveyard that will be listed as historic by the Alabama state government almost 90 years later.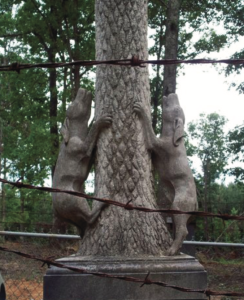 Over the next several years, this spot would become a popular burial place for coon dogs, and eventually, over 300 would lie interred there, including some world champion coon dogs. Today, it is known as the Key Underwood Coon Dog Memorial Graveyard, and it draws around 7,000 visitors each year. There are strict requirements allowing only coon dogs to be buried there, no other breeds. A recreation of the graveyard was even featured in the 2002 movie "Sweet Home Alabama." Each Labor Day, there is a celebration at the cemetery with music, dancing, and food. The cemetery is overseen by the Tennessee Valley Coon Hunters Association.
By the entrance stands a large granite statue of two coon dogs who have chased a racoon up a tree. Looking around, some graves are marked with simple metal or wood plaques. Others feature professionally-carved headstones. You'll find names like Blue Flash Jr., Beanblossom Bommer, and Strait Talk'n Tex. And, of course, you'll find Troop's headstone, standing endless guard over the remains of a special and much-loved coon dog.
4945 Coondog Cemetery Rd, Cherokee, AL 35616